It's Time to Start Building Again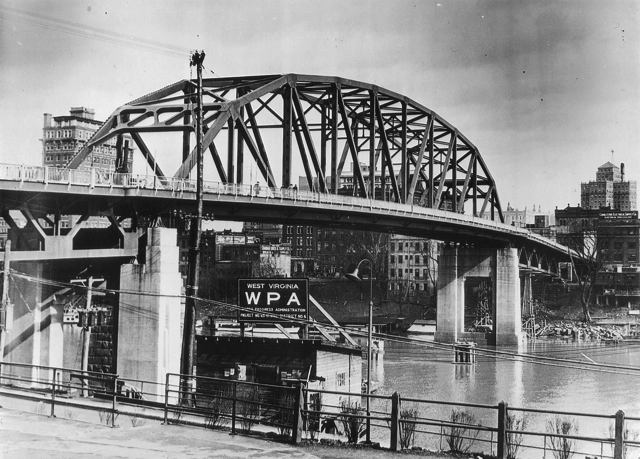 Infrastructure's a clunky word, but it's important. It means fixing things, and that means jobs. The WPA blazed the trail back in the 1930s when unemployment was sky-high. FDR had to fight conservatives who didn't want to spend the money. But WPA workers rebuilt the country and their paychecks stimulated the economy. Obama's got a new plan to do some infrastructure work, but the conservatives are against him, too. I'm a fan. Let's get behind him on this. Here are some highlights of what he proposed today:

The President's infrastructure plan calls for a Rebuild America Partnership that will attract private capital to build the infrastructure our businesses need most. By acting on the President's plan, together we can prove that there is no better place to do business and create jobs than right here in the United States of America.

Investing in a "fix-it-first" policy: The President's plan will immediately invest $50 billion in our nation's transportation infrastructure, with $40 billion targeted to the most urgent upgrades and focused on fixing our highways, bridges, transit systems, and airports most in need of repair.

Attracting private investment through a "Rebuild America Partnership": The President's plan will partner federal, state, and local governments with businesses and private capital to provide America with the best transportation, electric, water, and communications networks in the world.

Cutting red tape: The President's plan will cut timelines in half for infrastructure projects and create incentives for better outcomes for communities and the environment through a historic modernization of agency permitting and review regulations, procedures, and policies.

This new proposal would build on earlier progress. Obama's Recovery Act was the most significant transportation public works program since the New Deal, providing $48 billion in Recovery Act dollars to more than 15,000 projects across the country. Between Recovery Act and core infrastructure funds, American workers have improved over 350,000 miles of U.S. roads and repaired or replaced over 20,000 bridges since the President took office. Over the last four years, the Department of Transportation has built or improved more than 6,000 miles of rail, 40 rail stations, and purchased 260 passenger rail cars and 105 locomotives. In addition, the Obama Administration has made an unprecedented commitment to strengthen public transportation across the United States, investing in more than 350 miles of new rail and bus rapid transit, and helping to revitalize the American manufacturing industry by investing in 45,621 buses and 5,545 rail cars.

American-Made -- The Enduring Legacy of the WPA: When FDR Put the Nation to Work is receiving new attention in light of the economic meltdown that began in the fall of 2008. The pundits are calling it the greatest crisis since the Great Depression, and suddenly Americans are looking back. The WPA was one of the weapons FDR wielded against the human suffering caused by those hungry years, and today people are wondering what a new WPA would look like as unemployment climbs.
American-Made is more than vivid history. It's one of the sources where Barack Obama and his new administration may find some answers to dealing with the new hard times.
As history alone, American-Made received great notices. Kirkus Reviews, in a starred review, called it a "well-considered account of the Works Progress Administration, the New Deal's signature jobs program . . . colorful, compelling . . . Readable and vividly rendered -- a near-definitive account of one of the most massive government interventions into domestic affairs in American history." Publishers Weekly also gave American-Made a starred review, calling it "an eloquent and balanced appraisal" and "a splendid appreciation of the WPA with which to celebrate the upcoming 75th anniversary of the New Deal's beginnings in 1933."
The WPA symbolized an impulse of government that is under severe attack. Government itself is under attack as well. Despite the needs in 2012 for economic stimulus and the renewal of our shabby infrastructure, deficit spending has become an overwhelming issue. Nevertheless, the WPA remains a lesson for our times almost eighty years after it was born.
Thirteen to fifteen million Americans, a quarter of the work force, were idle at the depths of the Depression. In the cities and industrial centers, jobless men haunted union halls and employment offices, whiled away hours in cheap diners, or just stood in empty doorways. In the countryside, people moved in vast migrations, dust-bowl farm families in their trucks on the way to California, laborers hitchhiking to jobs they only hoped to find, more of them riding in empty railroad boxcars or camped in hobo cities. One in four families could not count where their next dime was coming from. They wore patched and threadbare clothes and lived face-to-face with hunger.
Federal relief under President Franklin Roosevelt's New Deal had eased the worst of the hunger. But it turned out that what workers wanted almost as desperately as food on their families' tables was the pride of taking home a paycheck.
That realization was the seed of a program that changed the physical landscape and social policies of the United States for decades to come.
The Works Progress Administration came on May 6, 1935, with an executive order from the president. The Civil Works Administration, a five-month whirlwind of temporary job creation over the brutal winter of 1933-34, had already set the tone. People preferred jobs over handouts. So when the CWA ended in April, 1934, Roosevelt's policy makers conceived a permanent jobs program. The WPA lasted for eight years, spent $11 billion, employed eight-and-a-half million men and women, and gave the country a new face.
The WPA's remarkable achievement was to combine the urgency of putting people back to work with a vision of rebuilding America. Its workers weren't merely raking leaves. They were overhauling the country's Nineteenth Century infrastructure. The WPA also transformed the social landscape. It recognized the federal government's obligation to sustain the basic needs of its citizens, and it brought women into leadership roles to an extent that was remarkable less than a generation after they won the vote.
Perhaps most important, the WPA's multifarious projects and its success at implementing them produced both an array of skills and a confidence of execution that was vital as the country entered World War II and cast off the chains of the Depression at last.
When disaster struck, the WPA was there. During the devastating Ohio River flood of 1937, and the New England hurricane of 1938, the agency sent thousands of men to the scene without waiting to be asked, and they evacuated families, shored up levees, and did a hundred other tasks that saved lives and property and helped victims and their towns and cities get back on their feet afterward, in vivid contrast with the current government's response to Hurricane Katrina.
WPA workers built everything from airports to zoos, including bridges, roads, and schools. They laid water lines and sewers. They dug up arrowheads and the bones of mastodons and built catwalks around the Odessa, Texas, meteorite so people could climb on it and look. They fought forest fires and took fingerprints. They stocked rivers, lakes, and streams with fish, seeded oyster beds, and planted trees. They built and refurbished toys for Christmas distribution, and they sewed clothing, mattresses, and dolls. Some of the best playwrights, actors, musicians, painters and writers in the country, who had to eat like everybody else, wrote and performed plays, gave concerts, painted murals, and wrote guidebooks. WPA workers cooked and served the first hot school lunches, often using vegetables grown in WPA gardens. To put a measuring stick on its accomplishments, the WPA built 650,000 miles of roads, 78,000 bridges, 125,000 buildings, and seven hundred miles of airport runways. It served almost 900 million hot lunches to schoolchildren, and operated fifteen hundred nursery schools. It presented 225,000 concerts to audiences totalling 150 million, and produced almost 475,000 works of art. Even today, almost sixty years after it ceased to exist, there is no part of America that does not bear some mark of the WPA.
I worked on American-Made for a very long time, but it's been worth it. It's been refreshing to immerse myself in a period when the government's impulse was to do the most it could for the vast majority of Americans. It remains one of the most interesting periods in American history, one that today's current crop of presidential hopefuls could --and should -- look to for inspiration.
American Made is my eleventh book. The ten others, authored solely or in collaboration, all non-fiction, have fit no pattern whatsoever. (There's also an unpublished novel sitting in a drawer.) It's been fun that way. Here's a list:
Laser: The Inventor, the Nobel Laureate, and the Thirty-year Patent War was published in 2000 by Simon and Schuster. The Citadel Press trade paperback appeared in the summer of 2003, and it's now available in a print-on-demand version that can be ordered from any bookstore. Laser is the story of inventor Gordon Gould's long struggle to win credit for the invention of the laser. The thing that outraged me the most as I researched and wrote Laser was how red-baiting politicians ruined people's lives. Gould had been a communist for a brief time in the 1940s, a time when a lot of young and uninformed idealists were doing the same thing. Because of it, he was barred from working under a government contract on his own invention. Gould was an intuitive genius in the laboratory, and shutting him out of the lab changed not only his own history, but slowed the pace of laser developments. Anti-communist paranoia and the politicians who exploited it were the political correctness and its enforcers of their time. A final note on Laser: Gordon Gould died on September 16, 2005, after a brief illness. The world of science and invention will miss his brilliant intuition and his drive to follow in the footsteps of his hero, Thomas Edison.
Before Laser, I collaborated with John Glenn, the astronaut and former senator, on his best-selling 1999 autobiography, John Glenn: A Memoir. What a treat it was to work with this great American. He and his wife Annie were generous and gracious, and great fun to be around. I don't think it's revealing state secrets to say that he's a chocolate freak. That was one of the reasons we got along so well together.
A Necessary End is my favorite book after American-Made, and the one closest to my heart. It's a memoir about my growing involvement in my parents' lives in their final years, and The Washington Post called it "one of the key stories of our time." Every middle-aged child with older parents has a similar story to tell, and as we baby boomers age many of my generation will have to become parents to our parents. It's a difficult process, but believe me when I say you can find humor and joy and wonderful memories in the midst of all the sadness. Many readers have told me they found A Necessary End a valuable companion as they embarked with their parents on the same journey.
In Hitler's Shadow, which I co-authored with Yaron Svoray, was the story of an Israeli's bizarre journey into the German neo-Nazi underground. It was released as the HBO feature movie The Infiltrator, starring Oliver Platt and featuring Alan King and Peter Riegert. Yaron Svoray remains one of the strangest people I have met in my life, a man of obvious courage but with (at least to me)unclear motives for exploring humanity's dark side.
Sins of the Father focused on two sons of a Mafia family in the federal Witness Protection Program. The Father of the title was a highly entertaining man, a Mafia freelancer named Sal Polisi. Sal told me he committed every crime but rape and murder. At the same time he was an inventive a father whose sons obviously cared for him. He had such an ego that after he took his family into the Witness Protection Program, with new names and a new home far from New York, he handed out cards introducing himself as "formerly Sal Polisi." Sins is really the story of Sal's sons, who have to reinvent themselves -- and their dreams of college football scholarships -- after their former identities are erased by the FBI.
My other books have observed life in a small church (Ordinary Miracles), and the lives of touring professional fishermen (Bass Wars). Both were a lot of fun. Returning to church after years away, I found the priest and parishoners at St. Mary's Episcopal in little Mohegan Lake, New York, inspiring in the way they quietly lived their religion in their daily lives. The bass fishermen were equally inspiring, in a different way. They welcomed an outsider, shared their gear and jelly worms, and showed me the dedication and sense of purpose it takes to excel not just in fishing, but in life. I flatter myself that Bass Wars is still the best book yet written about life on the pro bass fishing circuit.
I collaborated with one of Sloan-Kettering Memorial Hospital's best-known oncologists, Dr. Sidney J. Winawer, on Healing Lessons, the story of his wife's struggle with cancer and his transformation from a traditional doctor to one who embraced other forms of healing. My research, and Dr. Winawer's example, provided convincing evidence of the link between mind and body that is increasingly a part of effective medicine today.
And another one I should mention, because it was my first book-length writing job and because it's still in print, is Speak and Get Results, the companion to the brilliant Sandy Linver's public speaking courses at Speakeasy.
Before I started writing books, I wrote innumerable articles that appeared in magazines including New York, The New York Times Magazine, Esquire, Conde Nast Traveler, and The New Yorker, plus a lot of magazines you've never heard of. I've written several opinion pieces for the Op-Ed page of The New York Times on subjects ranging from scattering cremation ashes to the WPA's lessons for President Obama and the sad deterioration of the FDR Library in Hyde Park, NY. The latter piece produced some badly needed funding for repairs. I've appeared on the Op-Ed page of The Washington Post as well.
Lately I've done a lot of lecturing on the WPA. Early in 2010 I spoke at Colorado State University - Pueblo and Auburn University, as well as the public library at Sylacauga, Alabama. These appearances followed lectures at Shawnee State University in Portsmouth, Ohio, and Sacred Heart University. I've also lectured and taught at the Sandhills Writers' Conference at Augusta College, Augusta, Georgia, the annual Writers' Conferences at Marymount Manhattan College in New York, and the spring LitFest at Western Carolina University, my alma mater. In 2005 I drew on my experience in writing LASER to speak on applied vs. theoretical research at the Stevens Institute of Technology's seminar, "The Applied Science Problem." A year later I delivered the annual Manges Lecture on copyright at the Columbia University Law School and outlined the ways Google could expand access to scanned books and meet copyright law at the same time. Many of the ideas I outlined are contained in the proposed settlement in the Google book scanning case.
On the publicity front, I've been interviewed by such media personalities as Katie Couric, Matt Lauer, Larry King, and Geraldo Rivera. (The Geraldo interview took a hilarious turn when Sal Polisi's artificial nose, created to disguise him, started dissolving in mid-interview under the heat of the studio lights.) More recently, I starred in "CBS Sunday Morning's" December 2008 cover story on the WPA, and was interviewed by Canadian TV national correspondent Lisa LaFlamme for the network's coverage of President Obama's inauguration. I've been on the radio with Leonard Lopate, Tavis Smiley, Patt Morrison, and Tom Ashbrook talking about the WPA, and with Ira Flatow on "Science Friday" talking about the invention of the laser.
I remain active in the Authors Guild, the oldest and largest organization of published writers in the United States and an advocate of copyright and fair contracts, which I served as president between 2002 and 2006. I also serve as a director of the Authors Guild Foundation.
If you've gone to the biography page, you already know that I'm a native of North Carolina. I mentioned my wife Barbara earlier. She's an investigative reporter for WNYW-TV, Fox5 in New York. Her reports also appear on Fox5's sister station WWOR-TV, Channel 9. She's also teaching at Brooklyn College. Her subjects include writing for mass media and field reporting, and she's working on a new textbook in the field of video reporting. Her first book was Beautiful Skin of Color, an A to Z guide for caring for Asian, olive and dark skin, which she wrote with two African-American dermatologists. Her memoir about the foster child who lived with us almost twenty years ago, and the "helping gene" that predisposes people to help others, is another work in progress. And as if all that were not enough, she's launching a video-driven website, consumermojo.com, to help consumers with their toughest problems such as education, mortgages, retirement, and caring for elderly relatives.
If you want to get in touch, send me an email.

And buy a book. Not just mine or hers. Buy any book. We authors will all appreciate it.